Ozone Generators are the only solution for reducing mold, mildew, odors, and bacteria. Need to remove mold caused by flooding? Look no further You have found the solution. Reduce Black Mold, Mildew, Odors, Bacteria & Viruses Highly reactive ozone is created by our ozone generator. Ozone is a colorless gas made up of three atoms of oxygen (O3). It is one of the strongest disinfectants in the world with 3000 times the germ killing power of Chlorine
Rental Time:
4 Hours:

$22.80

1 Day:

$34.21

1 Week:

$102.61

4 Weeks:

$239.41
Product Features
| | |
| --- | --- |
| Manufacturer | OdorStop |
| Model | 2500 |
| Mfg website | http:www.odorstop.com |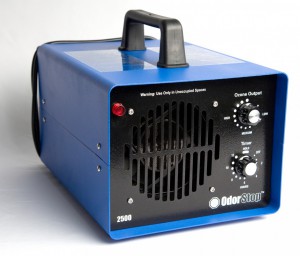 High quality aluminum body
•Functions: 2 Ozone plates + pre-filter + 12-hour timer
•Ozone Output: Variable — 100mg/H up to 1080mg/H
•Fan Output: 110CFM
•Voltage: 120V
•Power: 29W
•Dimensions: 7.5″h x 9.0″w x 12.5″d
•Weight: 9.5 lbs
•Area: 2,500 square feet*
* NOTE: Larger unoccupied areas may be treated when the unit is left to operate for a longer period of time with appropriate circulation and movement of the unit within the area.